SAFE is pleased to announce our November 2018 Volunteer of the Month, Blair Fleming. Blair is a busy gal who recruits new volunteers for SAFE, plans and executes work parties, and works the Friday PM shift, all while working two jobs and putting herself through radiology school. You would never know she leads such a hectic life, as Blair brings immense energy and a sunny disposition to her volunteer work at SAFE. SAFE is so thankful to have this Kirkland native as part of the team.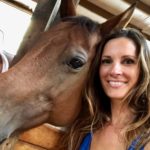 As a little girl Blair would travel to Montana to visit her family on a ranch. She admits to being completely obsessed with horses and rode bareback as often as she could. Her mother noticed her passion for horses and back in Washington, she signed Blair up for horse camps and riding lessons. She has never had a horse of her own, but she feels fortunate to learn from all of the horses here at SAFE.
Blair has worked with Tabitha and Renee, and loves them both.  She has a hard time picking favorites, but really appreciates all of the horses for their individual traits. Blair feels a special connection to Tabitha, as she notes Tabi has come so far in her time with us. Blair loves seeing Tabi's confidence and calm grow as her handling has been consistent. Blair is a special light to have here at SAFE. Thank you for your time and energy, Blair!