Lacey
| | | | |
| --- | --- | --- | --- |
| SEX: Mare | BREED: Mustang | REGISTERED NAME: None |   |
| COLOR: Chestnut | MARKINGS: Blaze, two socks |   |   |
| DOB: 7/4/2012 | AGE: 6 | HEIGHT: 13.3 | WEIGHT: 872 lbs |
| LOCATION: Redmond | ADOPTION FEE: $1,000 | Online Adoption Application |   |
Lacey's Story
Lacey is a young mustang mare who was born at a wild horse sanctuary. She and Stevie were adopted by a family who fell in love with his photo. Unfortunately their adopter was forced to rehome the two youngsters due to personal circumstances. Two years later, the original owners were contacted by the person who had taken them, who also was unable to keep them. Concerned for their safety, both owners turned to SAFE for help. We evaluated the horses with the assistance of our veterinarian at Mt Rainier Equine, who found them to be in decent health and soundness, but pretty thin. (Lacey needed to gain about 75 pounds.) The two horses were surrendered into our care. After groundwork and saddle work had started at SAFE, Lacey went for 90 days professional training to be started by Joel Conner. She did well with the riding but some of her ground manners still needed to be confirmed. 
Lacey Today
Lacey has mellowed into a sweet girl who loves working outside, hitting the trails, and cuddling on her person. She is a pretty dominant mare, though, and can test her handlers, so she's best suited for a confident adult rider.
At 13.3 hands, Lacey needs a smaller rider, but she has a stocky frame and doesn't ride small. She's a fast learner with a forward trot and canter, and a great stop. She's brave and attentive on the trails and would benefit from a rider with the experience to focus her energy. With a solid Horsemanship foundation–including good ground manners for the vet, the farrier, and trailering–Lacey is ready for the right partner to finish her education.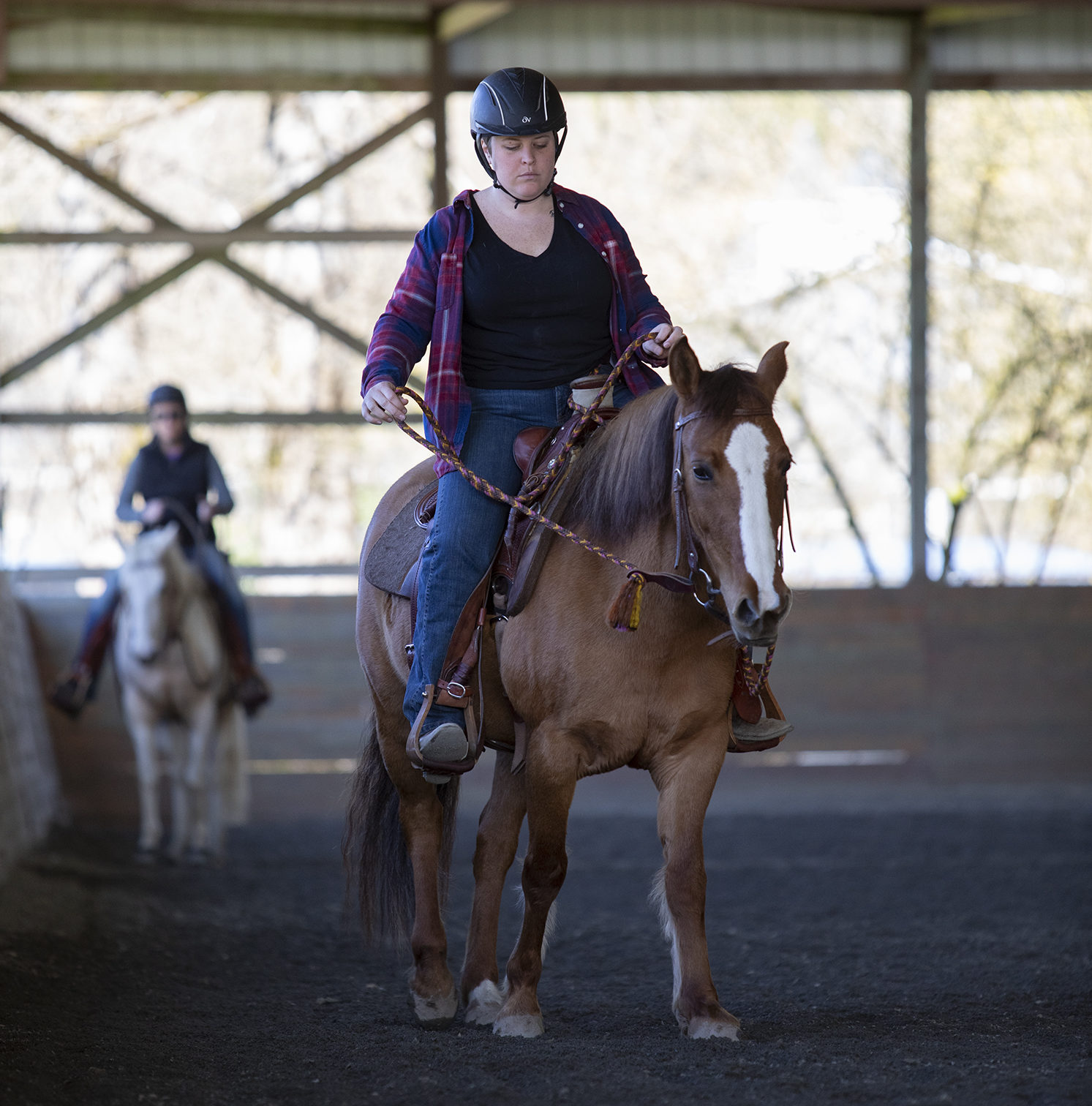 What a remarkable job Kaya is doing with this little feisty pony! The growth in Kaya's horsemanship and dedication to Lacey this winter was inspiring. All the hard work shows in how well they did in the clinic this past weekend. Kaya's enthusiasm and commitment to the horsemanship has made her a wonderful addition to our rider program. Lacey had a great learning clinic and the changes were very evident in her behavior and attitude. Here is what Kaya had to say about working with Lacey:
This was a great clinic for Lacey! I am super proud of how far we've come this winter and we were able to get some serious changes this weekend! As is usual, Lacey was lacking life, making pretty much everything except stopping difficult. We recently had some incidents outside the arena of sudden explosions of life generated by outside stimulus, one of which left me on the ground, and when we asked Joel about these, his solution was to find life in the arena so we can get used to it and it will become less of an explosion outside.
I logged this information away and continued to try to inspire energy and forward motion in Lacey. Joel showed me a way to move my leg that could be more effective, and it definitely was! Lacey's hind quarters and front quarters motions were much more lively after this. And, fortunately, this continued through the rest of the weekend!
Lacey and I did have a moment on Saturday that made me nervous. Her energy felt very similar to the day when I came off, so I rode into the center and dismounted. I told Joel of this feeling and he equated it to PTSD. He got on Lacey and was able to use the life that had made me nervous and showed me that, even though she had life, she wasn't troubled like she had been before. I was still a bit nervous but conquered my fears a bit and finished the day on a good note. On Sunday, Lacey started to show a similar life and, instead of letting my nerves take over, I was able to help her use it in a positive way. I'm so glad we had this moment to help me conquer my fear! I'm excited to keep trying to fight both my anxiety and Lacey's dullness. We'll both be so much better for it!

Lacey's Friends:
1. Roxanne M.
2. Margaret C.
3. Karen K.
4. Maureen S.
5. _____________________
6. _____________________
7. _____________________
8. _____________________
9. _____________________
10._____________________