Lacey
| | | | |
| --- | --- | --- | --- |
| SEX: Mare | BREED: Mustang | REGISTERED NAME: None | |
| COLOR: Chestnut | MARKINGS: Blaze, two socks | | |
| DOB: 7/4/2012 | AGE: 8 | HEIGHT: 13.3 | WEIGHT: 872 lbs |
| LOCATION: Redmond | ADOPTION FEE: $1,000 | Online Adoption Application | |
Lacey's Story
Lacey is a young mustang mare who was born at a wild horse sanctuary. She and Stevie were adopted by a family who fell in love with his photo. Unfortunately their adopter was forced to rehome the two youngsters due to personal circumstances. Two years later, the original owners were contacted by the person who had taken them, who also was unable to keep them. Concerned for their safety, both owners turned to SAFE for help. We evaluated the horses with the assistance of our veterinarian at Mt Rainier Equine, who found them to be in decent health and soundness, but pretty thin. (Lacey needed to gain about 75 pounds.) The two horses were surrendered into our care. After groundwork and saddle work had started at SAFE, Lacey went for 90 days professional training to be started by Joel Conner. She did well with the riding but some of her ground manners still needed to be confirmed.
Lacey Today
Lacey has mellowed into a sweet girl who loves working outside, hitting the trails, and cuddling on her person. She is a pretty dominant mare, though, and can test her handlers, so she's best suited for a confident adult rider.
At 13.3 hands, Lacey needs a smaller rider, but she has a stocky frame and doesn't ride small. She's a fast learner with a forward trot and canter, and a great stop. She's brave and attentive on the trails and would benefit from a rider with the experience to focus her energy. With a solid Horsemanship foundation–including good ground manners for the vet, the farrier, and trailering–Lacey is ready for the right partner to finish her education.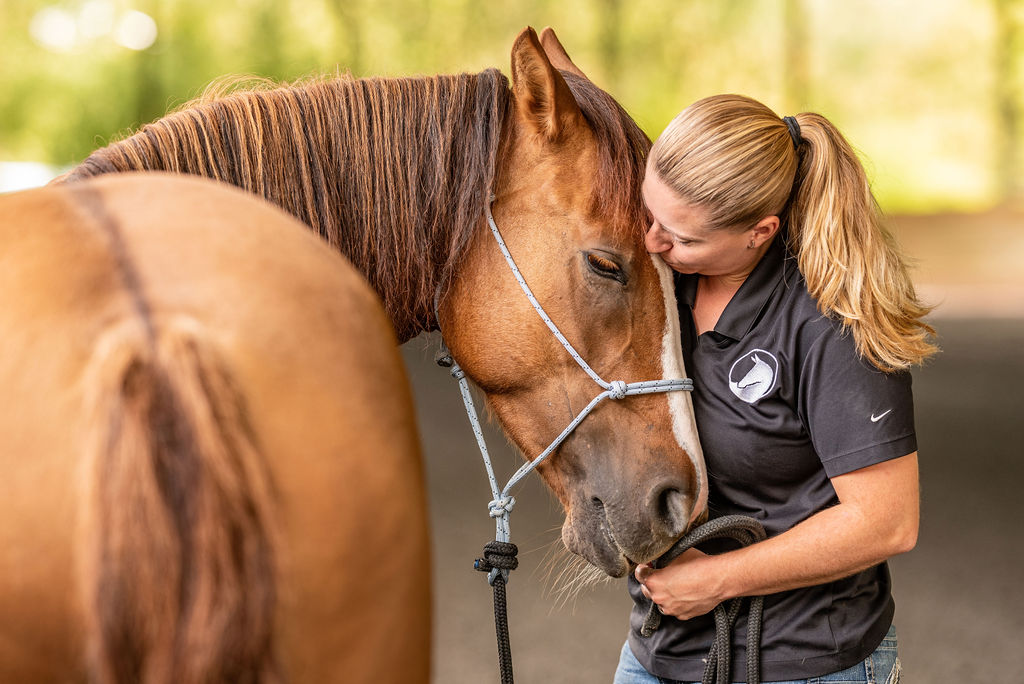 Oh Lacey…you sure are a conundrum! We love you just the way you are…but it would be a lot easier to find a home if you weren't so hot and cold. The riding itself was never the biggest issue. I think even the random freakout bucking under saddle could be figured out… but having to test every single new person who comes along just might be an overreaction. Seriously sister, humans don't eat hay…so when a volunteer needs you to move out of your shelter to clean around the hay bag, they are NOT trying to take your food from you! Clearly you think you need to protect your meals. I have yet to see any of our volunteers chomping down on any other horse's hay…but I suppose you have your reasons. For now, we're making sure that only staff or experienced volunteers enter your area and since then we haven't had any other issues.
As for riding, we will get there if we just keep chipping away. Lots of groundwork to help you feel like you can always move your feet. We know that you are still concerned about your back-cinch area and hind quarters being roped but you're still making progress and relaxing more quickly. We REALLY want to get to a place where we can trust you 100%…but you may always be a mare that demands a thoughtful rider. You have made it clear: if people are fair, you are cool; but if they're a little too intense or ask without a quick release, you feel wronged! In these situations, you feel it is well within your rights to throw a little redhead attitude their way.
Bottom line Lacey, you are one boss mare! You are loving and devoted to those you consider friends and we are honored when you bestow that privilege on us. Everyone else, well for now, just stay clear! We are still hoping with time and more experience, you decide strangers are not all trying to steal your hay! You deserve a person of your own, someone you can train…someone you can trust. That person is out there, Lacey, don't lose hope!!!

Lacey's Friends:
1. Roxanne M.
2. Margaret C.
3. Karen K.
4. Maureen S.
5. _____________________
6. _____________________
7. _____________________
8. _____________________
9. _____________________
10._____________________