Lacey
| | | | |
| --- | --- | --- | --- |
| SEX: Mare | BREED: Mustang | REGISTERED NAME: None | |
| COLOR: Chestnut | MARKINGS: Blaze, two socks | | |
| DOB: 7/4/2012 | AGE: 6 | HEIGHT: 13.3 | WEIGHT: 872 lbs |
| LOCATION: Redmond | ADOPTION FEE: $1,000 | Online Adoption Application | |
Lacey is a young mustang mare who was born at a wild horse sanctuary. She and Stevie were adopted by a family who fell in love with his photo. Unfortunately their adopter was forced to rehome the two youngsters due to personal circumstances. Two years later, the original owners were contacted by the person who had taken them, who also was unable to keep them. Concerned for their safety, both owners turned to SAFE for help. We evaluated the horses with the assistance of our veterinarian at Mt Rainier Equine, who found them to be in decent health and soundness, but pretty thin. (Lacey needed to gain about 75 pounds.) The two horses were surrendered into our care. After groundwork and saddle work had started at SAFE, Lacey went for 90 days professional training to be started by Joel Conner. She did well with the riding but some of her ground manners still needed to be confirmed. With careful and patient handling, Lacey has mellowed into a sweet girl. She loves working outside and going on the trails. She is a very intelligent mare, and a fast learner. Lacey is a pretty dominant mare who can test her handlers, so we're looking for a smaller adult who is a confident rider. Lacey has a stocky frame so even with her small size, she doesn't feel too small. She has a forward trot and canter and has a great stop.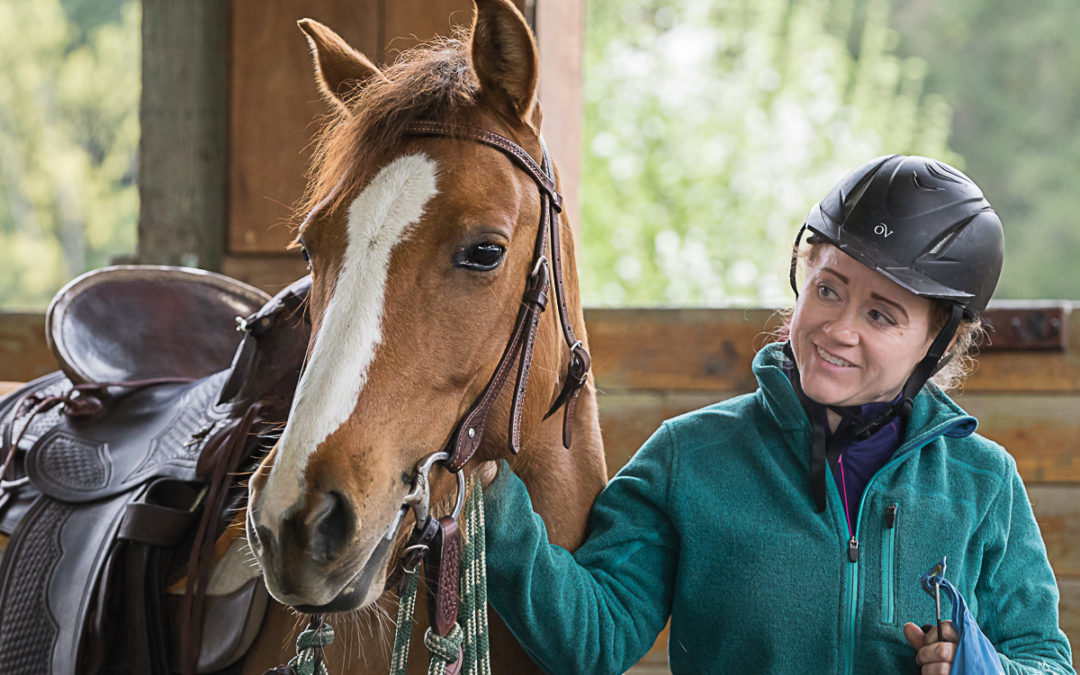 Clinic report from SAFE volunteer rider Erika:
This clinic was not the first time I've worked with Lacey, but it was the first time I've spent so much time working with her.
The first day, Friday, we really worked hard to get to a soft feel, and we got to where she can hold it for a couple of strides. Part of learning the soft feel with Lacey is learning how to have her respond to my legs and my seat, so that she continues to move forward. That was definitely the most challenging piece of the puzzle for me. To add to that, I have a tendency to lean on my hands a lot, which Lacey does not respond well to. With Lacey, once she gives a soft feel, I have to remember to give her her head immediately, or she'll start to pull on the bit and be less collected in the hind.
Saturday, we worked more on the soft feel and my seat and leg cues. She felt more forward as we progressed, and we held the soft feel for a few more strides than Friday. I worked that day to make my leg cues sharper. Another thing that Lacey does not respond well to is unclear cues, so I tried to make my leg movements crisp and clear for her. She responded positively, and we did better with turning a circle on a loose rein that day. As I was improving my leg and seat cues, Lacey was better at moving out, as well as slowing, stopping, and backing.
Sunday we worked even more on those puzzle pieces: soft feel, not leaning on my hands, and clear leg and seat cues. We got to where Lacey was more collected all over, and would hold the soft feel a little longer, and we even got to the lope (with a good expression on her face!) Sunday really felt like the culmination of the whole weekend, and was my favorite day. Lacey worked hard all weekend, and I'm really excited to start working with Lacey regularly.
Erika

Lacey's Friends:
1. Leslianne C.
2. Corrine H.
3. Karen K.
4. Maureen S.
5. Margaret C.
6. _____________________
7. _____________________
8. _____________________
9. _____________________
10._____________________