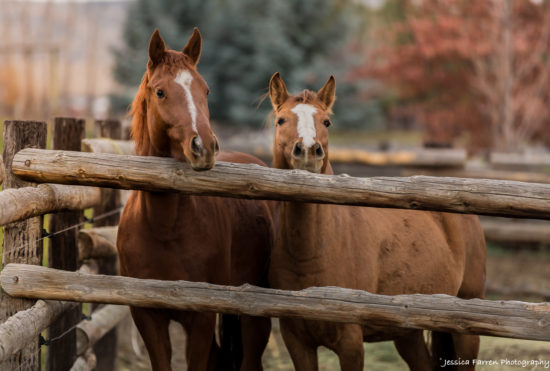 Jessel and Lacey made their way over to Ellensburg to start working with Joel Conner. They are both doing well and I checked in with Joel this week to see how the girls are doing. The plan is to give Lacey 90 days of professional training and let Jessel winter over with Joel. He's going to lightly start her under saddle and keep her exposed to professional, consistent handling to ensure she is learning the best manners possible.
Here is what Joel had to say about the two girls:
"JWOW (aka Jessel) is doing really good she's been wonderful to saddle and ride. She is acting a little bit bothered by the road behind her so we're getting her over that. Also she is learning how to move away from you when she's tied up and not kick.
Ol Snooki (aka Lacey) is getting better every day. She is learning how to stay on the wall and walk trot lope. We are also working with her on making sure that she doesn't kick when she's tied up. We're working with her with the rope and the mighty fart noise!"
So a little explanation might be needed here…Joel always comes up with nicknames for the horses and this time we just had to share! Snooki and JWOW are quite a pair and the names are just as fun as these two young mares! Also the "mighty fart noise" is something interesting that we found out about Lacey when we started to work with her here at SAFE. She absolutely hates it if you make a kiss sound or "fart noise". She becomes quite agitated, tossing her head and overreacting! We work on getting her used to it here but Joel is still having to work on getting her to relax about. It.s pretty funny but also a bit puzzling…why would she react to a noise this way but be okay with a tarp hanging off her back? Silly ponies! Sometimes you have to just scratch your head, smile, and tell her she's going to be alright and a noise will not hurt her.
Both of these horses were my training projects while they were here at SAFE and I grew to love their personalities. They both have a very sweet side but before we could see that sweet side, they needed to learn to respect their handler. I am very excited to see the work Joel is doing with them and thrilled to have such good report cards coming in. I miss seeing them at the barn but know this is an important time in their lives and trust Joel's skills 100%. It is amazing to be able to work with such a gifted and heartfelt trainer, I know the girls are going to turnout to be wonderful riding horses!
Here are some photos of them at Joel's: