Otto
SEX:
gelding
BREED:
Mustang
REGISTERED NAME:
none
INTAKE DATE:
12/6/2021
COLOR: buckskin
MARKINGS:
YOB: 2019
AGE: 3 yrs old
HEIGHT:
WEIGHT: 625 lbs
LOCATION: Redmond, WA
ADOPTION FEE: TBD
Online Adoption Application
Otto arrived in early December 2021 a few days after his herd mate, Cramer. The two horses were part of a three horse Animal Control seizure. Otto arrived at SAFE in desperate need of some groceries, covered in lice and suffering from a severe tooth infection. Thankfully, Otto made a full recovery, and has transformed into a shiny healthy buckskin gelding. He now spends his time in a large paddock with his bestest friend Cramer, along with Montana and Artie. At feeding time you will always catch Otto sharing a hay box with Cramer. Cramer takes a bite from the hay net, while Otto cleans up what drops onto the ground.
Otto is regularly worked in our horsemanship program and has even been sporting a saddle! He's on his way to eventually becoming a riding horse!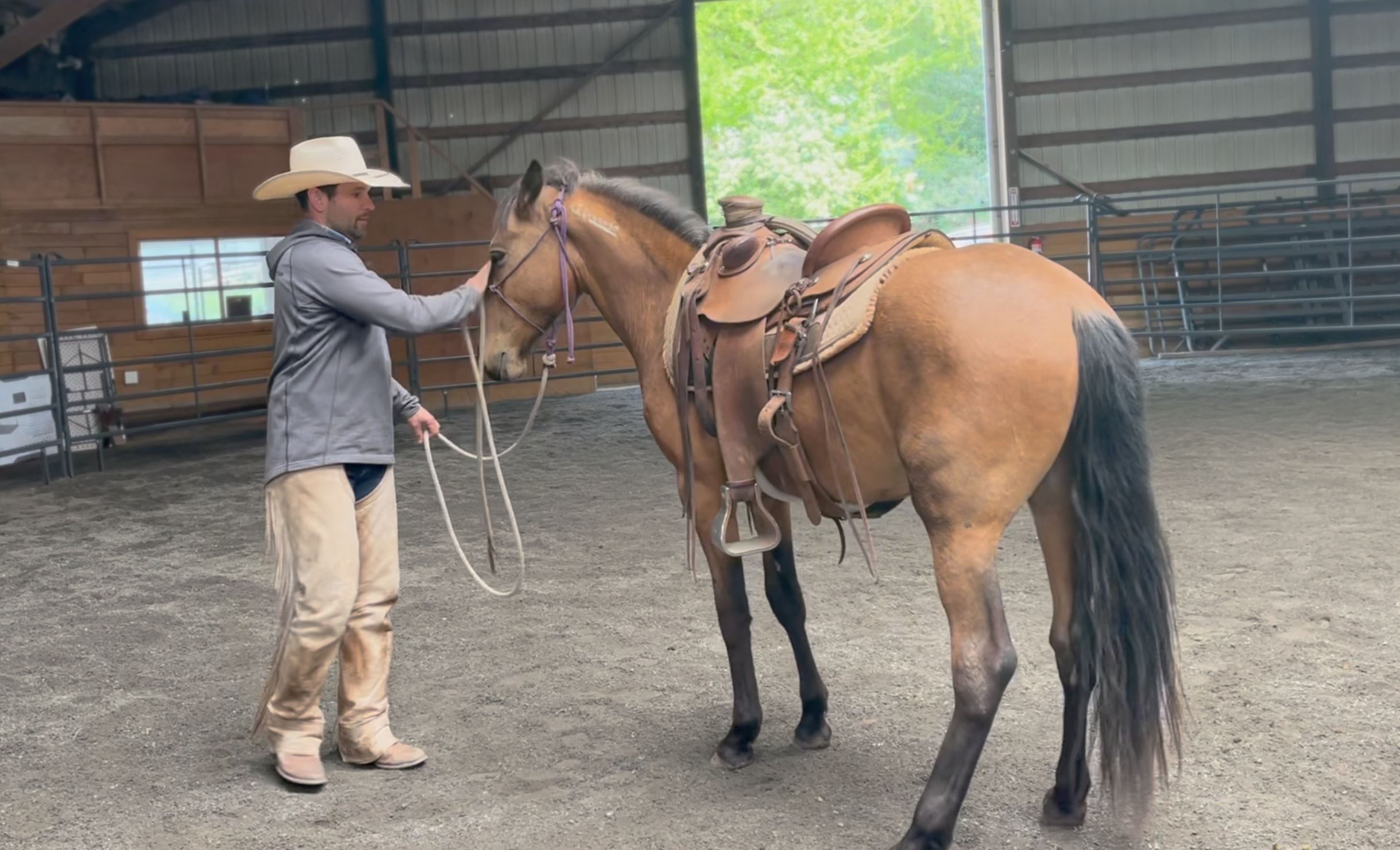 This month was the first time Otto saw a saddle (or rather, the first time he wore one – technically he'd probably seen one before then). First saddlings are always interesting. We do our best to prepare the horse before we cinch them up for the first time. Touching them all over with the flag, placing saddle pads on their backs, throwing the rope around their middles, all exercises to help simulate the types of things they will undergo when they wear a saddle. But even with the best preparation, the saddle is still a completely different experience. The saddle is constant pressure that the horse must learn to deal with – aided by support from us.
Many horses, when first saddled, will react to the first few (or even beyond the first few) saddlings. They are worried about the stirrups, about the various dangly bits on the saddle, about having something attached to their back. So we expected some reaction from Otto. But when that cinch was pulled snug, Otto just walked off, cool as a cucumber. Granted, he had the great support of Joel, but even still, his reaction (or lack thereof) was quite impressive. This was not a one off – Otto proved to be level headed with each subsequent saddling. The first time with a rider on his back he handled with the same mellowness. Not to say there weren't still some spots where Otto got bothered, but overall, he was not reactive. This boy has a good (not to mention very cute!) head on his shoulders, and we are excited to continue our work with him.

Otto's Friends:
1. Bear C.
2. Julie H.
3. Carrie S.
4. Whitney-Bear B.
5. Patricia A.
6. Brianna K.
7. Nancy P.
8. Kortney C.
9. Leigha M.
10.Christine M.
Every horse deserves at least ten friends! Even a small monthly donation can make a difference. Plus, SAFE horse sponsors receive discounts at local businesses through the SAFEkeepers program!