Phoenix has returned to our herd at SAFE Harbor Stables. He is healthy, happy, and looking terrific.
Why is Phoenix back at SAFE? As you may remember, he was adopted back in 2008, about seven months after he was rescued. We kept in contact with his adopter, did follow up visits, and everything seemed to be going well for him. His adopter had him started under saddle, and he proved to be very easy to start, and surprisingly well behaved and mellow with a rider on his back. He was ridden in the arena and on the trails.
Earlier this year, we were contacted by his adopter, who said she could no longer afford to keep him. We were making plans to help list him for rehoming, and we even had a volunteer standing by who was willing to work with him and get him ready to be sold. But before any of that could happen, we got word that he had been sold, and was no longer at the boarding facility where we had last seen him. All of our attempts to contact the adopter and find out where he had gone failed…calls and emails were not returned. Phoenix was gone, and we had no idea where he was.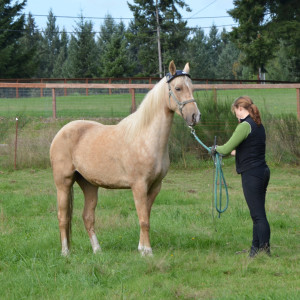 A few weeks ago, Phoenix turned up for sale on Craiglist. I immediately got in touch with the seller, and let her know that he was a former SAFE horse and that we were interested in getting him back. The seller very graciously offered to give him back to SAFE. She told me that she had purchased Phoenix in July, but because she had just found out she was expecting, she did not have the time to continue to work with him and had decided to sell. She had also attempted to contact his adopter, who told her she would take him back if things didn't work out, but was unable to reach her. She was more than happy to see him return to SAFE, and we are very grateful to her for her generosity and willingness to work with us.
Why did we take Phoenix back? Seeing that Phoenix was up for sale for the second time in less than a year had a lot to do with it. He's a young horse, he's an extremely good looking horse, and he is a pretty big horse too. He may be great under saddle, but his ground manners are pretty awful. It took us three separate attempts to load him into a trailer, and the final attempt took well over two hours. Phoenix has some serious gaps in his education, and unless he gets the training he needs, he is in danger of becoming a very big problem for someone. Because SAFE rescued him when he was 7 months old, we feel responsible for him, and we want to see him end up in a good home that will last, preferably for the rest of his life. So rather than leave that to chance, we have elected to once again take responsibility for him in order to get him back on the right track.
On the positive side…and there are many positives here…Phoenix is a lovely horse. He's very sweet, he's stunning to look at, and unlike his little brother Sinatra, he grew up into one hunk of a horse! He's tall, about 16hh, with a nice wide back, and a good sturdy frame. He's a fancy mover, and we will soon find out if the rumors are true about him being an excellent riding horse. We will work hard to get him straightened out on the ground, teach him to load into a trailer, and then see what we have. It's pretty likely that we will have one pretty terrific horse to offer for adoption!
Phoenix and Brittney working together in preparation to load:
We've rebuild Phoenix's thread from the old SAFE board, so there are lots of photos and videos here for you to enjoy! Click here to visit Phoenix's thread!