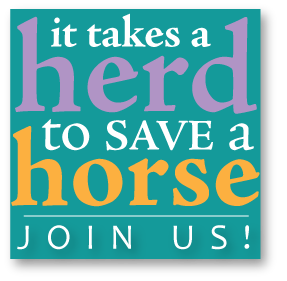 Ten dollars probably doesn't seem like a lot of money. It won't buy much in the way of hay, grain, or vet care. But ten dollars could provide almost everything that the SAFE horses need for an entire month: food, farrier care, routine vet care, even training.
How is that possible?
SAFE is fortunate to have a lot of friends, fans, and supporters. We have over 2,300 followers on Facebook; a mailing list of close to 1,200 people who have donated, adopted, volunteered, or attended an event; and a website that gets over 20,000 page views per month.
One person pledging $10 per month won't get us very far. But if 500 people did…well, it would cover a significant portion of SAFE's monthly horse care expenses. We call that sustainable support.
Please consider a pledge of $10 per month. With an automatic payment set up on a credit or debit card, you probably won't feel much of an impact. But as part of a group, you'll be making an impact. A big impact. Which is why I say that it takes a herd to save a horse. Working together, we can do great things for horses in need. And with every happy story or picture we post, with every pound gained or wound healed, you'll be able to say, "I made that happen." That's going to feel great.
So won't you join us? It's so easy. The button below will take you to a secure page where you can sign up using a Visa or MasterCard. If you'd prefer to use your PayPal account, that option is available as well. Another option is to use the bill payer function offered by your bank online to have a check sent to SAFE automatically each month. Whichever way you choose, you'll be a valued member of our "herd" and together, we can make a real difference for horses that need us.