Jewel has been making great progress with the help of her foster mom, Janelle, but she's had some recent setbacks that have us a little worried. Janelle recent adopted an older gelding from NWESC, and brought him home to join Jewel and her daughter's pony Lucky. Jewel took an immediate dislike to the new horse, and began displaying some extreme aggressive behaviors toward him. In particular, she started kicking the walls of her stall so hard that the noise travelled all the way to the house, and made Janelle worry that she would injure herself. The new horse has gone off for a month of training, so some peace has returned to Janelle's farm, but now Jewel is beginning to behave aggressively toward Lucky who she used to get on well with. This anti-social behavior has us worried.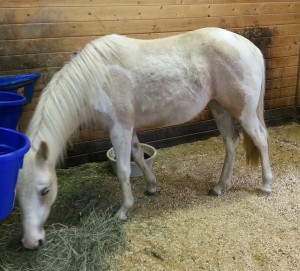 Jewel has done very well in her ground work training with Janelle, so she's made a few attempts to test her progress by having her husband work with her, with mixed results. She's still got a long way to go before she can be safely handled by just anyone.
We're also troubled by the fact that Jewel recently lost a front incisor, which could indicate that she is closer to 2.5 years old, instead of a yearling as we were originally told. She has one leg with some significant crookedness that we've hoped would improve with age, but if she's older than we thought, that possibility becomes less likely. This concerns us because it calls her future soundness and suitability as a riding horse into question.
In the meantime, she is filling out nicely and has shed out most of her winter fuzzies, revealing a pretty palomino and white coat, which reminds us a little bit of Misty of Chincoteague! We'll keep you posted on her progress.