After nearly 5 years in our current Woodinville home, SAFE is going to be moving to a new location. On Feb 1, we will begin packing our belongings and moving our horses to a fabulous equestrian center located in Redmond WA. This facility has 30 stalls, an indoor arena, a covered arena, a covered round pen, and an outdoor arena, all on 11 usable acres with plenty of turnouts and grass pastures for the SAFE horses. The location simply cannot be beat: we'll be right next door to Little Bit Therapeutic Riding Center and directly adjacent to Farrel-McWhirter Farm Park with its miles of horse riding trails. Yes, we can ride our horses straight off the property and straight into the park. Dream come true, am I right?
As we prepare to move on, we get ready to bid a very fond farewell to Safe Harbor Stables in Woodinville. We are deeply indebted to Anne C., the owner of this property, for everything she has done for SAFE over the last five years. In early 2012, when SAFE suddenly found itself homeless, we approached Anne with a proposal to take over her facility, which at the time was a self-care boarding stable. Anne took a chance on this fledgling horse rescue operation, and allowed us to lease her horse property. It has been an amazing home for us. We grew so much while we've been here…expanding our volunteer program to as many as 8-15 individuals working in three shifts every day of the week…developing our training program and our volunteer rider program…hosting Open Houses and educational seminars and opening our doors to our supporters in Woodinville and beyond…and all of this growth was made possible in part by the beautiful equestrian facility we called home. Throughout it all, Anne has been much more than just our landlady, she's been a supporter, a cheerleader, and a friend. We are so grateful to Anne for giving us this amazing opportunity and making it such a joy to be here.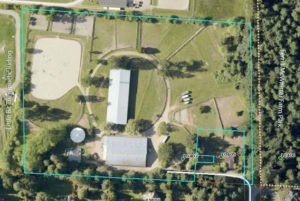 The month of February is going to be a bit chaotic for us, but we are so excited to get started. We plan to move the horses mid-month — which will give us time to get their stalls fluffed and ready — and our offices will likely be moved toward the end of the month. We're planning our first Open House for late April and we hope that everyone will stop by and say hello.
Nothing that SAFE does would be possible without the support of our donors and our volunteers. As we take this big step towards an exciting tomorrow, that is a fact that becomes even more clear to all of us. Just as these horses are your horses, this new home is your home too. Can't wait for you to see it!! Thank you so very much for being a part of SAFE.