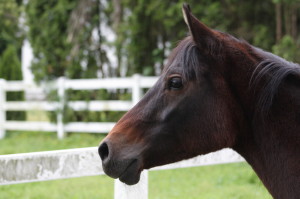 What a joy this little mare is becoming! I had some really lovely quiet rides on Cameo this month. She can still be quite the four year old handful but she has a new peace about her and ground work is helping her find that more and more. Once she gets rid of the excess exuberance and focuses, she is a delight to work with. Her whole body changes from flighty Arabian to an easy Quarter Horse relaxation. I think she is becoming more comfortable on her own feet and with that balance she can quiet her energy. She is extremely smart and has a genuine sweet side when she looks at you with her soft eyes.
We had a really good ride last week but the next day she came out of her stall very stiff. Skye and Cameo can get running and playing hard outside too but I am not sure what caused this soreness; she is still young so maybe she is growing. The next day she looked a lot better and has looked better this week and back to riding. When she first came back to SAFE after being started, she felt very wobbly and unbalanced. The work encourages balance and trot poles are helping her find a better way of moving. She doesn't feel as unstable underneath me, which I am sure is a good feeling for both of us. She is still pretty rushed and wants to be unbalanced for her canter work. When she is stronger, the canter work will be easier but until she feels more stable, she sometimes becomes very flighty and runs to escape.
Another thing that is going to help is a new saddle that was donated to SAFE by Dawn Anderson. It is a smaller tree so it is great for this girl's little frame. We are so thankful for Dawn's support and her time helping to fit our riding horses with the proper saddles.
Cameo is looking for a confident rider who can appreciate her green behavior and help channel them in the right direction. She is still very young so I try to keep things fun and not put too many demands on her developing body. We ride a few times a week, other days we play with obstacles and desensitizing tools. And I'm always looking for ways to help her gain more trust in people.