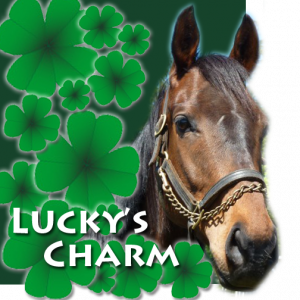 As you may know, SAFE horse Bucky B Lucky has bone chips in his ankle from an injury he sustained on the track. If these chips were surgically removed, Lucky would be able to be more than just a Walk/Trot horse but would also be able to canter and do low level dressage work. Removal of the bone chips would also decrease the likelihood of painful arthritis later in his life. We've already been quoted a discounted rate for the surgery by our friends at Pilchuck Veterinary Hospital — for $1,500, Lucky could have the surgery he needs.
In honor of St Patrick's Day, we decided we would launch a "Lucky Charm" campaign to raise the funds to pay for this operation. We decided that for every $20 donated to the SAFE general fund between March 17 and March 31, we would enter the donor's name into a drawing for a special "Mint Condition Prize Package" to include a tote bag, t‑shirt, Derby glasses & other souvenirs from the 2010 Kentucky Derby.
And then tragedy struck in Japan.
Lucky was the one who suggested that we go ahead with our fundraiser and our prize drawing, but that we pledge a portion of each donation to WorldVets.org an organization that is already working on the relief effort for animals effected by the earthquakes and tsunami in Japan.
We thought that was a great idea, so we decided that for every $20 donated to SAFE between March 17 and March 31, we'll take 20% of that donation, match it, and donate to WorldVets.org. As always, your donation will be 100% tax deductible.
Checks
Visa/MC/PayPal
Checks (made out to SAFE) can be mailed to:

SAFE c/o Bonnie Hammond
12236 Old Frontier Rd NW
Silverdale, WA 98383

note: PayPal charges a fee of 2.2% plus $.30 on every transaction (charity rate)
SAFE is an Exempt Organization under Section 501(c)(3) of the Internal Revenue Code, and a registered non-profit corporation in the state of Washington. Your gift to SAFE is tax-deductible. All donations to SAFE are carefully recorded and tracked, and SAFE will supply each donor with a receipt for their contribution which should be retained for tax purposes.