Stella
SEX:
Mare
BREED:
Paso Fino cross (ungaited)
REGISTERED NAME:
None
COLOR:
Bay
MARKINGS:
Hind Sock
Approx YOB:
2012
AGE:
6
HEIGHT:
14.0 hh
WEIGHT:
720 lbs
LOCATION:
Redmond
ADOPTION FEE:
$2,500
Online Adoption Application
*Stella is suitable for a balanced rider (& tack) weighing up to 140–170 lbs max.
Stella's Story
Stella is a young Paso Fino cross mare who was seized by Snohomish County Animal Control in 2014 after she and another horse were found starving and neglected. Stella spent 6 weeks under the care of the county before being released to SAFE. Watching this young horse grow up has been a delight. At first she was shy and quite unsure about humans, but with kind, consistent handling, she's proven to be friendly, sweet, and easy to catch. We're most impressed by the bravery and confidence that this horse displays. When faced with something new or strange, she takes a moment to investigate and reassure herself that the scary thing means her no harm. That bravery should suit her well in her future life as a riding horse, as will her smooth and powerful movement. She's a small thing with a lot of get‐up‐and‐go, and she's ready for anything! She does not appear to be gaited, so she's probably not pure Paso.
Stella Today
Stella is going beautifully in all gaits with a soft feel, working on leg yields and haunches in and walk canter departs. She has a wonderful mind and her volunteer rider loves that Stella is always ready to work and is always seeking to find an understanding with her rider. Stella loves her little hacks around the SAFE property. She may be small in stature, but this beautiful, fluid mover should not be passed up!
This summer she has been on a few adventures: the SAFE Benefit Horse Show (several first place ribbons!), a clinic with Joel Conner near Salem, Oregon, and a clinic with Buck Brannaman in Spanaway, Washington. At the clinics, she caught the eye of many auditors and everyone was impressed with her personality, try, and training. This is not your "typical" rescue horse. She is athletic, sensitive and has an amazing foundation and will go as far as her rider wants to take her training.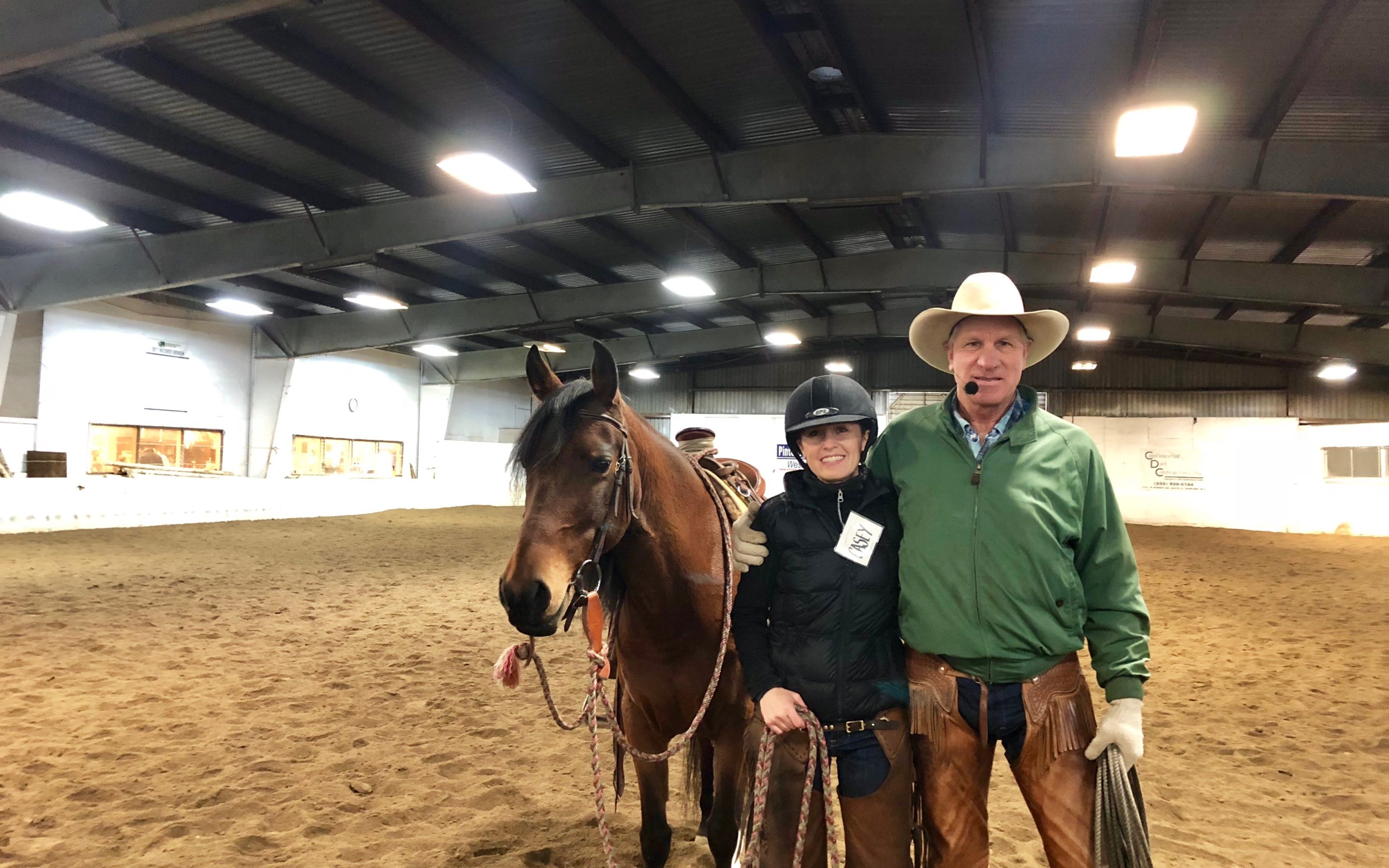 About five years ago Terry invited me to audit a Buck Brannaman clinic in Enumclaw. I had not heard of Buck, but I was eager to see his style of horsemanship and continue my education. I am so grateful that I took that opportunity because it resulted in a fundamental shift in my approach to horsemanship, and has informed SAFE's approach to rehabilitating horses. At the end of October, after auditing clinics over the years in Ellensburg, Spanaway, Dayton, and Fort Worth, Stella and I participated in his Horsemanship I class.
We decided to head down the night before the clinic started so that we could get settled and organized. Stella hopped right onto the trailer, and when we arrived at the Tacoma Unit she quickly relaxed into her stall, even when the horses around her were troubled and calling. We got out the night before the clinic for a short ride, and it didn't take long for her to relax into a great ride. During the clinic it was much the same, as she was relatively untroubled by the other horses in close proximity (25 in total) and always looked to me to keep her out of trouble. She was so unconcerned that she would doze when we took a break from working! By the end of the clinic we were walking united circles just off my leg with no rein, had gotten all four methods of moving the hind quarters, improved our turn around, and met a lot of like‐minded horse people. Stella is a very sensitive horse, and it was so cool to see and feel how relaxed she was in a new and busy environment. It was an invaluable experience, and I was incredibly proud of how well Stella did. No one would have guessed she was a "rescue"-a testament to the strength and support of the SAFE community we are both lucky enough to experience.

Stella's Ten Friends:
1. Jerri E.
2. Sandra B.
3. _____________________
4. _____________________
5. _____________________
6. _____________________
7. _____________________
8. _____________________
9. _____________________
10._____________________
Every horse deserves at least ten friends! Even a small monthly donation can make a difference. Plus, SAFE horse sponsors receive discounts at local businesses through the SAFEkeepers program!