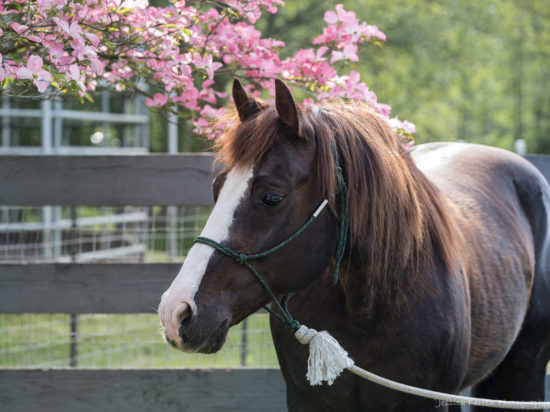 We've had a lot of people reach out to us over the last few days about Ruger, who many of know as Parnelli. At the moment, Ruger is not available for adoption. He's only been with us for few weeks, and he is still recovering from the neglect he suffered. When Ruger is ready for adoption, we will be looking for someone who can provide a home where he will be taken care of for the rest of his life, whether he is a riding horse or a pasture pet. At 21, this horse deserves a wonderful retirement and shouldn't be expected to work too hard. At this point, we do not know if he will be a riding horse again. He's been through an awful lot.
His dental exam a few weeks ago showed that his teeth are very worn out, and a lack of dental care in the past unfortunately has not helped. This affects the amount of nutrients he can get from chewing and eating hay, so he will need to have supplemental feed going forward. At this time, we're feeding him 10 pounds of senior feed, in addition to his hay, every day. It's expensive but it is what he needs. Potential adopters will need to consider these expenses before making a commitment to this horse.
Our farrier trimmed his hooves two weeks ago and re-checked him again on Monday. Ruger's feet were terribly neglected and he has a severe case of thrush and hoof rot. It will take at least a month of daily treatments to get that under control. His hooves are very tender and ouchy right now because he has deep cuts in his heels and frogs. So we cannot work him or start him back under saddle until those are completely healed. He still has a bit more weight to put on and we are working on clearing up his rain rot and skin irritations. Ruger has been an absolute gentleman for his rehab and very easy for our Barn Managers and volunteers to handle.
We have had a flood of calls, emails, and adoption applications for Ruger over the last few days. Although he is not being offered for adoption yet, we will accept adoption applications from interested adopters and keep them on file until Ruger is ready. It is heartwarming to know that so many people recognize this horse and want to offer him a home. But while he is still in recovery, here are a couple ideas to consider:
Ruger needs friends!! Sponsor Ruger with a small automatic monthly donation and help support his recovery! Ruger and Harley did not come to SAFE with any financial assistance from Animal Control. If you want to be part of his rescue story, please consider sponsoring him while he is at SAFE. Click here to learn more about SAFE horse sponsorship.
Ruger is only one horse…but SAFE has many fine, well trained horses available for adoption right now! These are healthy horses that have received professional training to start or re-start them under saddle, and who are in full work with volunteer riders here at SAFE. They are ready to take you wherever you want to go!! Take a look at:
These horses, and all the adoptable horses at SAFE, may not be famous, but they should be! Adopting a well trained horse from SAFE means that you are opening a spot for a another horse that really needs us.