Amelia
| | | | |
| --- | --- | --- | --- |
| SEX: Mare | BREED: Quarter Horse type | REGISTERED NAME: |   |
| COLOR: Palomino | MARKINGS: Blaze & two hind socks |   |   |
| YOB: 2000 | AGE: 19 | HEIGHT: 14.3 | WEIGHT: 923 lbs. |
| LOCATION: Redmond | ADOPTION FEE: $300 | Online Adoption Application |   |
Amelia's Story
Amelia was seized by Animal Control after she was discovered neglected and starving. Upon intake, we initially thought she was pregnant, due to an increase of swelling in her udder, but it turned out that this poor mare had mastitis. She was treated with antibiotics and soon recovered. Amelia is a very sweet mare who loves to be petted and scratched. She came to us a bit starved for affection, and is quite happy to be loved on.
All SAFE horses are adopted with a no-breeding clause, no exceptions.
Amelia Today
What a sweetie! Amelia loves to be loved on, and once she knows you're a friend, she is very well mannered and has the potential to be a kid's horse. Amelia came into SAFE troubled and as a result, has some residual hesitations with new people. She'll need a family with good horse sense but once she trusts she is very amiable. Our SAFE Horsemanship volunteers have worked to develop her soft and responsive feel, and with her health stable, she is ready for a companion home–or with the right family, a child's saddle horse for light riding.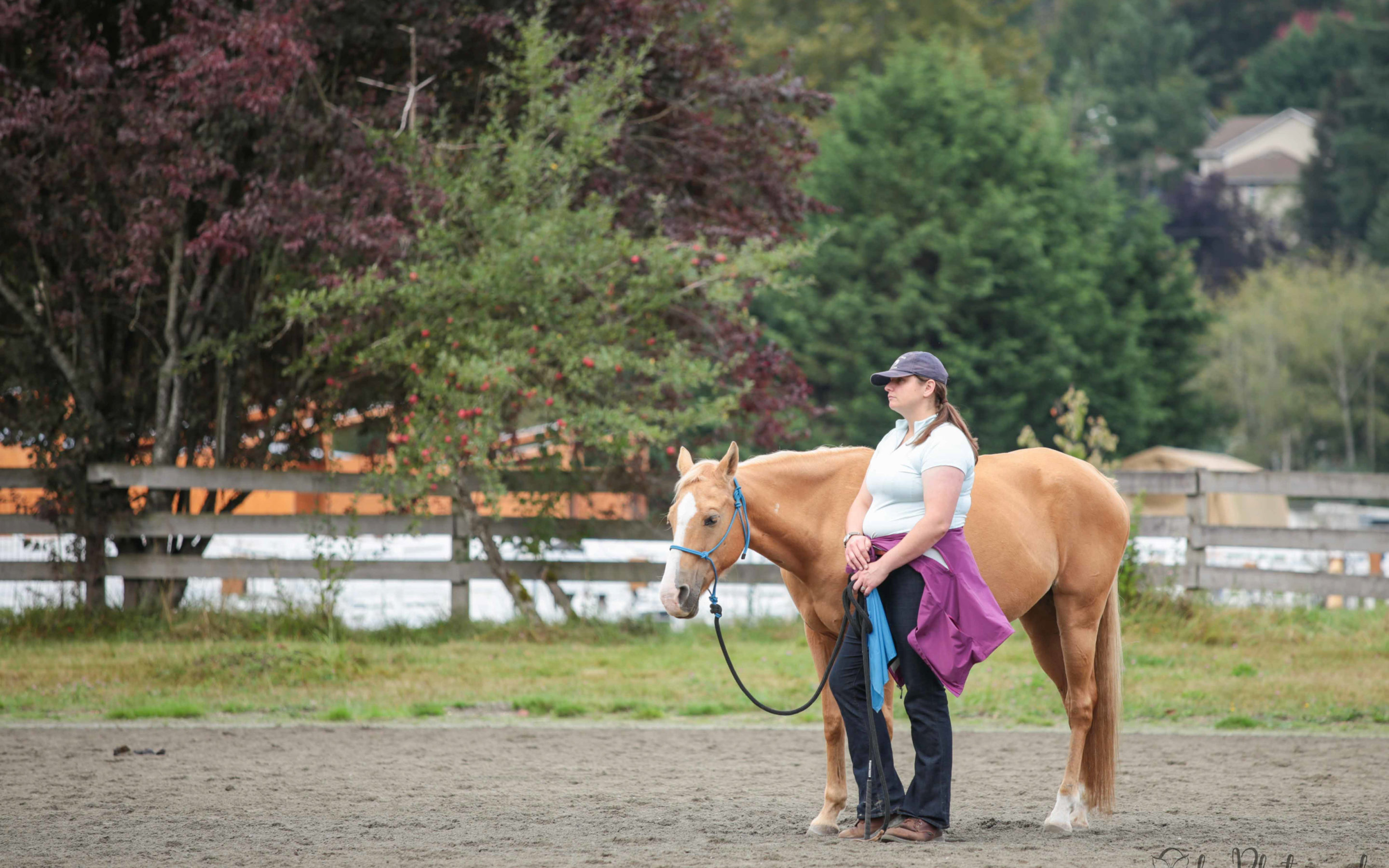 Sarah V worked with Amelia in the September clinic. Here is what she had to say about getting to know this sweet mare:
Amelia and I had only worked together once before the clinic and I'm still new to this style of horsemanship, but she was a lovely mare to work with and incredibly patient with my learning. During the two groundwork sessions, we focused primarily on feeling out how much of my energy was required to get her to move her feet, and also getting her to respond promptly to that energy. Because of some arthritis and a lack of conditioning, Amelia has some difficulty bending to the left and backing up, so we worked primarily on moving her hindquarters and then backing her from both a distance and next to her head. She also has a slight tendency to push into her handler, which meant we worked on preserving my space and keeping her shoulder out while on the unified circle.
Knowing Amelia's history of neglect prior to coming to SAFE and that she had some arthritis/weakness and being new to working with her, I erred on the side of caution in not pushing her too hard, and later realized I wasn't asking for enough of a release to help her let go of her braces and get unstuck. By the end of the clinic, though, Amelia was more prompt with her upward transitions and backing up, more respectful of my space, and a bit less stuck in her feet. I look forward to working more with Amelia to work through some of her braces and free her feet, build her strength, and continue increase her responsiveness. 

Amelia's Friends:
1. Alissa R.
2. Nancy P.
3. Lauren & Bryan E.
4. Sherry H.
5. Marie J.
6. Amelia S.
7. _____________________
8. _____________________
9. _____________________
10._____________________
Every horse deserves at least ten friends! Even a small monthly donation can make a difference. Plus, SAFE horse sponsors receive discounts at local businesses through the SAFEkeepers program!