Amelia
SEX: Mare
BREED: Quarter Horse type
REGISTERED NAME:
COLOR: Palomino
MARKINGS: Blaze

&

two hind socks
YOB: 2000
AGE: 18
HEIGHT: 14.3
WEIGHT: 923 lbs.
LOCATION: Redmond
ADOPTION FEE: $300
Online Adoption Application
Amelia is about 18–20 years old and she's recovering from neglect and starvation. We initially thought she was pregnant, due to an increase of swelling in her udder, but it turned out that this poor mare had mastitis. She was treated with antibiotics and seems to be on the mend. Amelia is a very sweet mare who loves to be petted and scratched. She seems quite starved for affection, and quite happy to be loved on. We'll be looking for a suitable companion home for this sweet old girl.
All SAFE horses are adopted with a no-breeding clause, no exceptions.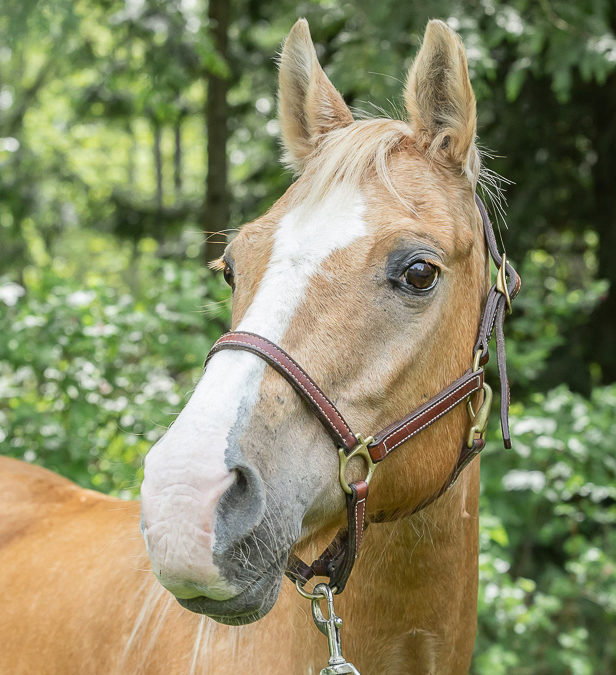 One of our wonderful Horsemanship volunteers, Phoebe, has been taking time to get to know Amelia. She seems like an old soul with a rough past. Her eyes are still lost…not quite ready to relax into the feeling of comfort or peace. But hopefully with all the love and extra attention from Phoebe, we'll start to see her open up and start trusting people again. here is what Phoebe had to say about Amelia:
I have had the privilege of working with Amelia over the last couple weeks. The first time I tried to brush her she reached around as though to bite, but if I stroked her neck while brushing her belly, she totally relaxed. She is totally chill now to brushing. No bite. I've roped her fronts, she was fine, her right hind she kicked & protested but figured it out pretty quick and was good about me cleaning it once that was established.
She seemed very dull to human contact at first, but is becoming more aware & seems almost relieved to not have to be the alphaa anymore. She is smart, picks things up quickly, and wants to please. Her ground manners when being led are SO much better! She is learning to read me when walking on the lead, stopping, backing. Still working on the unified circle, didn't have much chance to revisit that last week. What a calm, friendly, respectful mare she is! And what a great kids horse she could become. I can see a 4 year old loving on her, and her eating it up. Just my opinion at this stage. She is beginning to follow a feel consistently when asking for a one rein stop, both sides, is slowly learning to back up when asked, but not good at yielding her front — really dull, but not bad at yielding her hind.

Amelia's Friends:
1. Alissa R.
2. _____________________
3. _____________________
4. _____________________
5. _____________________
6. _____________________
7. _____________________
8. _____________________
9. _____________________
10._____________________
Every horse deserves at least ten friends! Even a small monthly donation can make a difference. Plus, SAFE horse sponsors receive discounts at local businesses through the SAFEkeepers program!