Anderson
SEX:
Gelding
BREED:
Arabian
REGISTERED NAME:
None
 
COLOR:
Chestnut
MARKINGS:
Blaze, two socks
 
 
YOB:
2003
AGE:
16
HEIGHT:
14.3

WEIGHT:

744 lbs

LOCATION:
Redmond
ADOPTION FEE:
$1,500
Online Adoption Application
 
Anderson's Story
Anderson and Annabelle were surrendered by their owner after the Kitsap Humane Society discovered the two horses living in an isolated field where they were being fed but were otherwise unhanded. Anderson was a stallion, who had been allowed to breed Annabelle repeatedly over a period of 5-6 years. His behavior in the presence of his mare was decidedly studdish, and Annabelle had to be removed from the property before we could even attempt to catch him safely. With the help of trainer Darik Anderson, Anderson was caught, loaded into a trailer, and hauled to NWESC where he was immediately gelded. He got an education in good behavior from Dr Hannah, who conducted his post-surgery forced exercise.
Anderson Today
Anderson is a flashy, gentle, beautiful mover. He is in full training and loves trail rides where he can lead, follow or go out alone on the trails. He's even sorted cows.
Anderson moves out nicely through W/T/C and is continuing to work on more advanced moves such as haunches in, walk canter departs and the beginning work towards flying lead changes. This guy has an incredibly sweet personality but tends to be a one-person kind of horse. You earn his respect and this fellow will literally walk over fire for you. He is always looking for a nose kiss and snuggle with his person. He bathes and trailers, stands for the vet and farrier, and does great in turnout with other geldings.
Since he was started a little later in life, Anderson requires a solid intermediate rider with knowledgeable background in late cut stallion behavior and preferably Arabian type breeds. He has been at SAFE long enough. He has a great foundation and is ready for the rest of his journey to begin!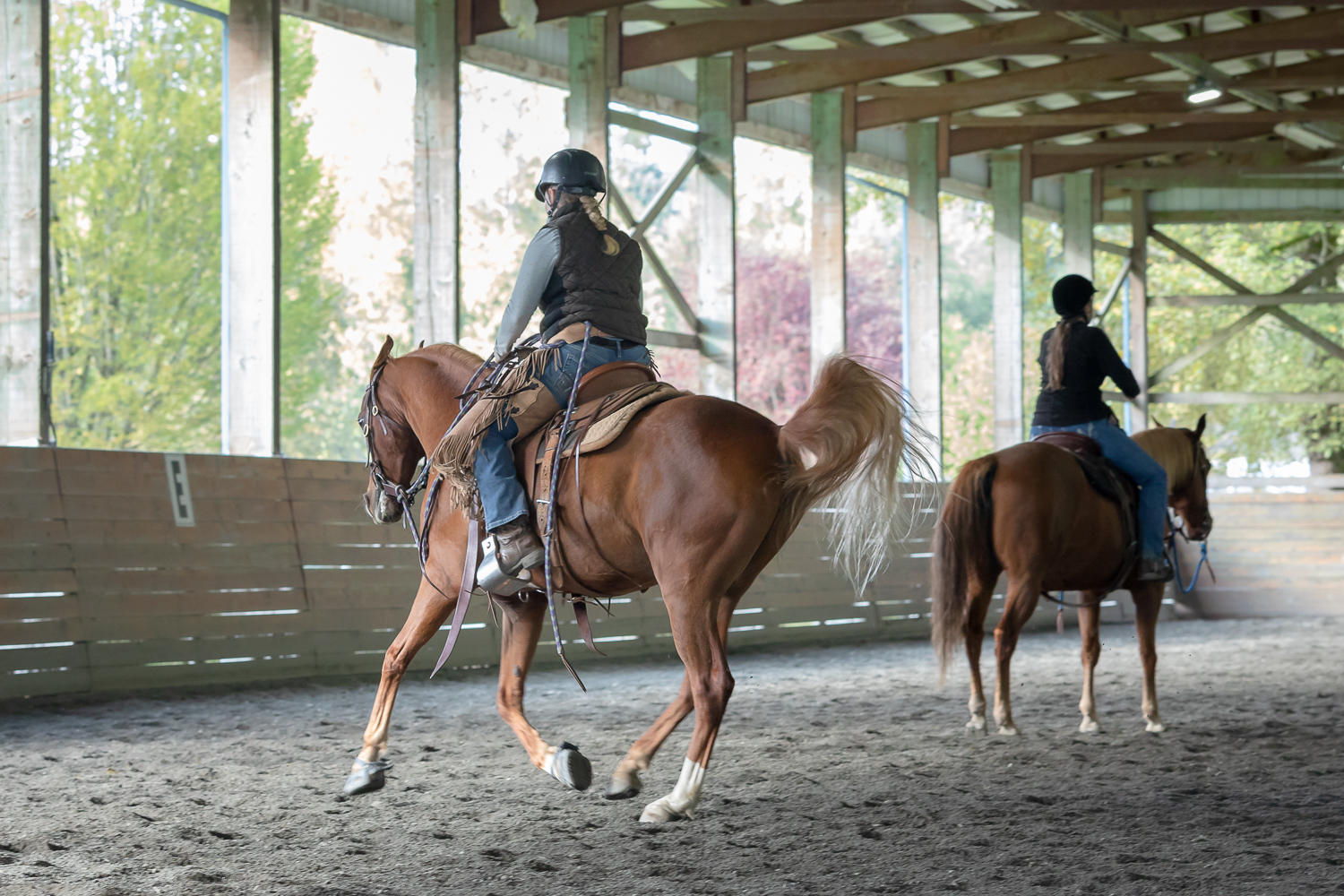 Terry worked with Anderson during Joel Conner's last visit, here's what she had to say:
Wow!! What a great ride!! Anderson has never felt this forward before. At this clinic, Joel gave Anderson the best compliment, saying he is ready to be adopted and will make it as a riding horse for someone. Joel asked what I've been doing differently.  I think these changes have to do with the timing of my ask to canter and Anderson's connection to my feel. He has become very steady and will maintain the gait as long as I want. As I told Joel, it's SO nice to get on a SAFE horse who is starting to act and feel like a "grownup horse!"
There are a few things we will continue to improve. One is the shaping up around to the right, which has always been an issue but the correction is getting easier and he is holding the shape longer. Also getting him straight and lining out which will get his hind engaged more. He needs to strengthen his hindquarters too. Like many Arabians, Anderson tend to be weaker in the hind end and can easily end up on his forehand. He is backing up with less resistance and able to supple and back nice arcs. This is something we will continue to improve upon and get lighter off feel.
For fun, I asked Joel to help me teach Anderson haunches in and simple changes to eventually ask for flying changes. But I realized that I was asking for too much at once by asking for haunches in. Asking for just a step or two is better in the beginning as he learns what I'm asking. Since the clinic, I've built on these few steps and he is holding it much longer and without a brace. He has a lot of lift in his withers and all of this exercise is helping him get softer in his body.
For the simple changes, Anderson needs to become more punctual about the right lead canter which is still his weaker side. This is a bit tricky, and he'll give me a stink face if I demand a quick canter transition instead of building it up from the trot. But we started breaking it down with an exercise of going from the rein back to an immediate forward transition to the trot or canter. This is helping him push and "jump out of his tracks" with a good amount of impulsion. From here we can also get him to started on walk to canter transitions. He had some great moments in the clinic to build upon.
With every ride, we get to a good place and we're seeing fewer bad expressions from him too. His attitude will still shows up in the arena work but not all the time and only for the canter. He is a horse with an opinion for sure but the work is getting changes. He is greatly improved over the last few months and I'm excited to get some adoption applications on him so I can show him to some prospective adopters. He can be a tricky fellow but it's well worth the time to get to know him. He loves attention and is quite a funny character at times. I trust him very much and I know there is someone out there who can be his perfect partner.

Anderson's Friends:
1. Maureen S.
2. Gwendolyn B.
3. Karla P.
4. Jeannie S.
5. _____________________
6. _____________________
7. _____________________
8. _____________________
9._____________________
Every horse deserves at least ten friends! Even a small monthly donation can make a difference. Plus, SAFE horse sponsors receive discounts at local businesses through the SAFEkeepers program!