Stella
SEX:
Mare
BREED:
Paso Fino cross (ungaited)
REGISTERED NAME:
None
COLOR:
Bay
MARKINGS:
Hind Sock
Approx YOB:
2012
AGE:
6
HEIGHT:
14.0 hh
WEIGHT:
720 lbs
LOCATION:
Redmond
ADOPTION FEE:
$1,000
Online Adoption Application
*Stella is suitable for a balanced rider (& tack) weighing up to 140–170 lbs max.
Stella is a young Paso Fino cross mare who was seized by Snohomish County Animal Control in 2014 after she and another horse were found starving and neglected. Stella spent 6 weeks under the care of the county before being released to SAFE. Watching this young horse grow up has been a delight. At first she was shy and quite unsure about humans, but with kind, consistent handling, she's proven to be friendly, sweet, and easy to catch. We're most impressed by the bravery and confidence that this horse displays. When faced with something new or strange, she takes a moment to investigate and reassure herself that the scary thing means her no harm. That bravery should suit her well in her future life as a riding horse, as will her smooth and powerful movement. Stella had 45 days training with Joel Conner and returned to Safe Harbor going well at all three gaits. She's a small thing with a lot of get-up-and-go, and she's ready for anything! She does not appear to be gaited, so she's probably not pure Paso.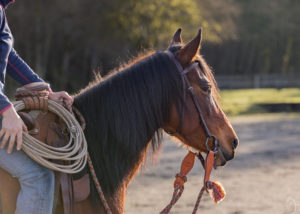 SAFE owes a very big thank you to volunteer rider Casey for all her efforts and steadfast devotion to Stella through her rehabilitation and training. This little mare is full of life and has a BIG heart. She is more than ready to find her special someone and a family to love her forever! Here is an update from Casey about Stella and their work together:
Stella has been doing very well on the ground and under saddle. After her rehab I noticed some regression in some areas, including being bothered by the flag, particularly when switching eyes, and by things touching her hind legs. These areas of regression make sense because she was stall bound for months, and due to the nature of her injury, we couldn't really work around her hind legs in a way that would cause much movement. We've been working through these issues now that she is sound, and she has shown significant improvement, but I suspect that these areas will need to be continually revisited.
Though there were a few areas of regression, she has really maintained her softness and responsiveness. She is always ready to work and readily cues in to my feel, which is something I've always loved about her. All of the exercises that we had worked on prior to her injury have served us well while she was rehabbing and while rebuilding strength in her hind end. There are days where she is more spirited but overall, she is very pleasant and well mannered.

Stella's Ten Friends:
1. Jerri E.
2. Kastle H.
3. Dave W.
4. Caroline E.
5. _____________________
6. _____________________
7. _____________________
8. _____________________
9. _____________________
10._____________________
Every horse deserves at least ten friends! Even a small monthly donation can make a difference. Plus, SAFE horse sponsors receive discounts at local businesses through the SAFEkeepers program!