Zanadu
description: 2005 white & chestnut pinto are
type of rescue: owner surrender
intake date: 6/1/2010
adoption date: 6/18/2013
length of time with SAFE: 3 years
ADOPTED!! by Karen J of Arlington WA
Zanadu was taken in by SAFE when she was five years old, an unhanded and underfed young mare, surrendered by her owners who were later charged with animal neglect. Restarted under saddle by Andrea Lucianna, Zan became a superstar riding horse — willing, easy, hard working, and so pretty to look at. She competed at several schooling shows in both Dressage and English Pleasure. She even went to the ocean. Through it all, she proved herself to be level-headed, teachable, and fun to ride. But adoption eluded our dear Zan…she came close a few times, but that perfect home never quite appeared. The problem was Zan's slightly enlarged knee, which we believed to have been caused by an old injury. She'd always been perfectly sound, but we had to caution potential adopters that she could end up facing arthritis and needing joint maintenance, and that uncertainty was enough to scare off potential new homes.
Then we showed her x‑rays to Dr Bryant at Pilchuck Vet Hospital and asked him for an evaluation. He told us that Zan had bone chips in her knee joint, and that she looked to be a good surgical candidate. Thanks to a generous donation from the Adams family, plus matching funds from Microsoft, Zan got the surgery she needed to be sound and comfortable for the rest of her life. It was not too long after Zan's rehabilitation was complete that an adopter came forward…a woman who had followed Zan's progress with SAFE for years who was finally ready to adopt a horse. When Karen finally met Zanadu in person for the first time, she cried. Zan is beloved and treasured in her new home, and we are so happy that she has found her person.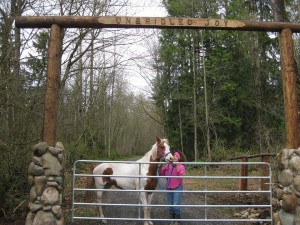 Sara, who is SAFE's Vice President and Adoption Manager, keeps in touch with many of our adopters through Facebook, and a few days ago, she saw this lovely photo, posted by Karen who adopted Zanadu from us. When Sara asked Karen about it, she received this beautiful explanation:
"The name Unbridled Joy is actually the working title of a book I have been writing – I started about two years ago. The full title is UNBRIDLED JOY: A life of love, loss and horses. It's a journal about joy, how I had it, lost it, found it, what gives me joy, horses and some wonky adventures in my life along the way.
The title came to me as I was trying to articulate in my mind how I would try to live my life again after losing my beautiful, brave daughter Heather when she was just one month shy of 36 years old in 2011. She lived her entire life in a wheelchair as a result of birth injuries and was never able to ride horses. I personally believe with all my heart that my angel girl Heather whispered in God's ear that her Mom could reclaim that joy with a best horse friend. So Heather rides with me now.
It is fitting that the beautiful spot in Eagle Ridge where Zanadu and Raffy now share their forever home with us be called Unbridled Joy. Our neighbor, Bruce Aalmo, constructed the entry from my design with rocks we collected from our land.
Sara, always so grateful to you and SAFE for making me Zan's forever Mom."
This is all we want for any of our horses: the chance to bring someone unbridled joy. Thank you, Karen, for giving Zanadu that opportunity.
Don't postpone happiness: we have many lovely horses waiting to share your life. Click here to see them all.