Jewel
description: 2011 palomino and white paint mare
type of rescue: Owner Surrender
intake date:12/12/2012
adoption date: 11/4/2017
length of time with SAFE: 4 years, 10 months
ADOPTED!! by Julie V of Redmond WA
Jewel is a palomino & white Paint mare who came to SAFE in an emaciated condition with a severe parasite load, lice, a poor coat, overgrown hooves, and facial indentations from a halter that was too small for her. Jewel made a full recovery from her neglect and blossomed into a lovely young horse. Jewel did a great deal and she's done very well in her lessons. She was very easy to start under saddle, thanks to all of the ground work and liberty training done at SAFE. Jewel and a young rider named Claire cliniced with Buck Brannaman and did exceptionally well. Jewel was ridden on a regular basis by her volunteer rider, and under the guidance of trainer Joel Conner, Jewel made tremendous progress as a riding horse. Jewel found her forever home with SAFE volunteer Julie V, who was kind enough to board her new horse right in the neighborhood so she's never too far from our hearts.
Jewel and Julie went camping!!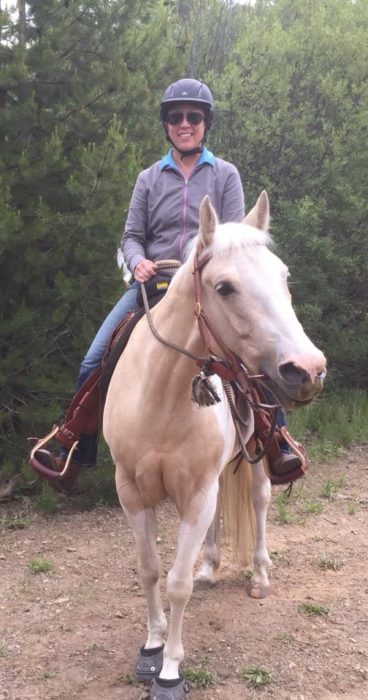 For updates on many of your favorite adopted SAFE horses, visit our SAFE Alumni Facebook group! It's where SAFE adopters can post updates, photos, and videos of their SAFE horses, to share their progress with the SAFE community!