Honeycutt
description: 1997 chestnut Quarter horse type gelding
type of rescue: feedlot rescue
intake date: 7/15/2005
adoption date: 7/28/2014
length of time with SAFE: 9 years
Honeycutt's Story: Honeycutt was pulled from a feedlot in Yakima where he was scheduled to ship to slaughter. He bore three brands that seemed to indicate that he was an ex-bucking stock horse, and his ability to buck removed any doubt. He was healthy and sound, but terribly afraid of people. SAFE made several attempts to start Honeycutt under saddle but eventually we realized that it was too much for him and that he would never be safe to ride. Despite his fear, Honeycutt had lovely manners and was a wonderful horse to be around. Once we stopped trying to ride him, his artistic side began to bloom. He wrote beautiful haiku poetry which he shared on his blog, and was also an accomplished painter who worked both solo and in collaboration with other artists. He helped with many of the SAFE horses, including Chip, Owen, and most notably, Sinatra. Honeycutt quickly recognized that Sinatra was Special, and did much to help him navigate the turbulent waters of life. Honeycutt and Sinatra were adopted together in 2014, but in 2019, they returned to SAFE.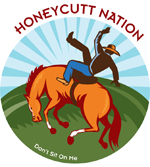 Honeycutt's website — click here to visit!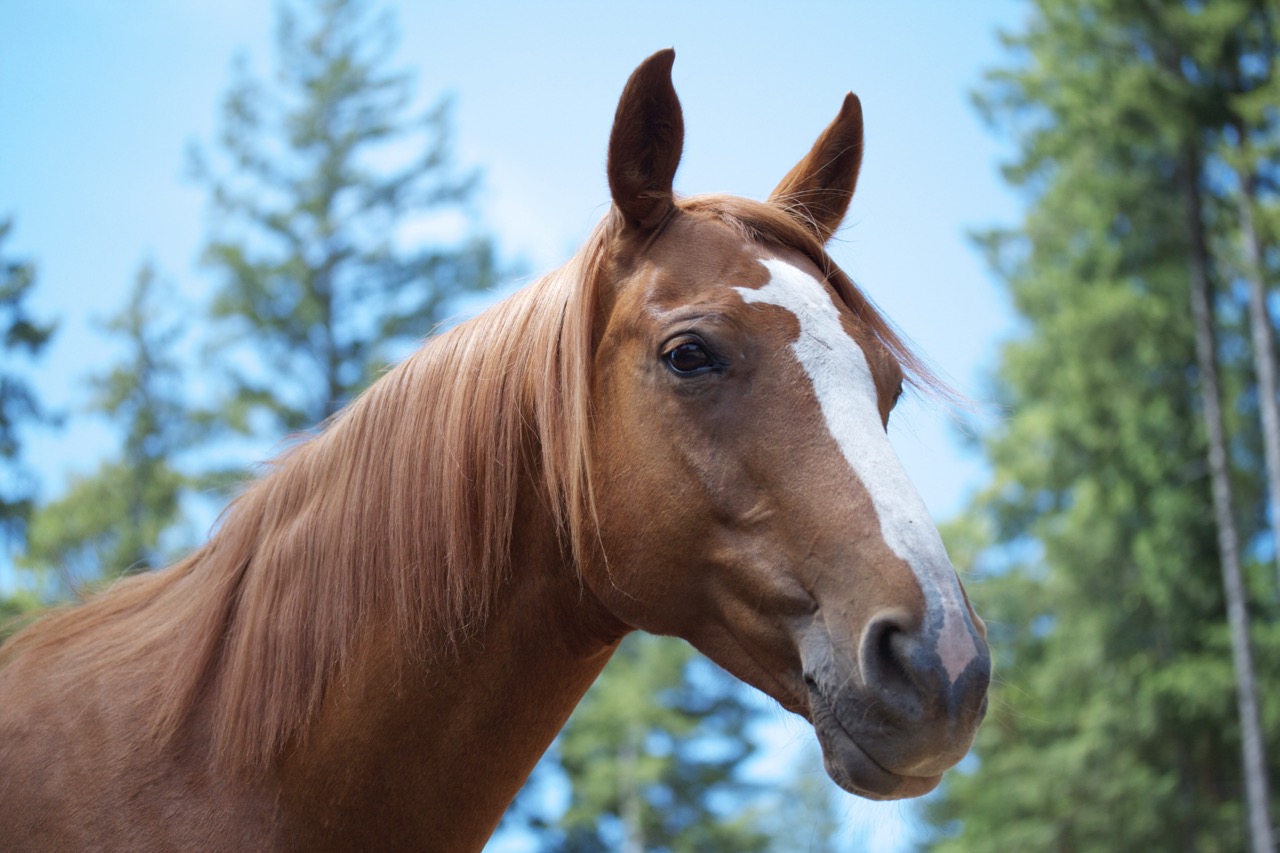 We are deeply saddened to tell you that SAFE horse Honeycutt left this world on Monday. His loss has left a huge hole in our organization, our barn, and our hearts. Honeycutt was about 22 years old and already battling Cushing's Disease when he became ill. And although we did absolutely everything conceivable to help him get better, we made the painful decision to let him go when it became obvious that his condition was not improving, and he was miserable.
About two and a half weeks ago, Honeycutt underwent a procedure to remove four loose teeth. The extractions were relatively easy and uncomplicated, but the following morning, we began to see signs that something was wrong. He was weak and lethargic, with an elevated heart rate and a fever of 103.9. Dr. Renner from Rainland Farm Equine came out, pulled a blood sample, administered antibiotic medicines, and tubed him to get water into him. His bloodwork indicated the start of an infection, most likely due to the extractions and complicated by his Cushing's Disease.
By the next morning, Honeycutt's heart rate was still quite high, which typically indicates pain or discomfort. He was lethargic and trembling, with his head down and his food uneaten. Banamine seemed to help the trembling but his heart rate remained elevated. Dr. Renner came out and performed an oral exam to check the extraction sites and see how they were healing. The sockets seemed to be healing well, but x‑rays were done to check for signs of infection in the bone. Again all the sockets looked fine but in one, it did look like there might be some signs of infection. Dr. Renner opened that socket and flushed it, then put antibiotic tablets into all four sockets for a localized treatment. After he was done, Honeycutt's heart rate was back in the normal range, which seemed to indicate that we'd found the source of the problem and relieved his discomfort. He was tubed again to keep him from getting dehydrated, and prescribed daily doses of two antibiotics plus banamine to keep him comfortable.
By the next morning, he seemed to be perking up a bit and was even starting to eat and drink a little bit. But his symptoms quickly returned. He was lethargic, standing in his stall with his head down, and trembling, mainly in his neck. He was also showing some concerning neurological signs: ataxia, weaving, and general unsteadiness on his feet. Dr. Renner came back and tubed him again with water and electrolytes, and pulled blood to recheck his white blood cell levels. That test indicated that his blood work was stabilizing, which again seemed to indicate that the infection in his mouth was under control. Dr. Renner returned later that day to tube him again, and discovered that Honeycutt's neck was very stiff and painful on palpation, his range of motion was very limited, and that he couldn't extend his mouth to the ground.
But x‑rays showed no evidence of injury in his neck. And further blood testing still led us to believe we were dealing with an infection. We continued to treat that with antibiotics. He was tested for West Nile Virus, which is uncommon in our area, but the symptoms seemed to fit, especially the trembling in his neck. The test came back negative, as did the tests for EHV and EPM. There were no answers.
We continued to treat him with antibiotics and banamine, along with ulcergard and vitamin E, hoping to see some signs of improvement. And there was some improvement: he began eating and drinking more steadily, his heart rate stayed down, and he never spiked another fever. But every morning and every evening when we came to check on him and give him his meds, he looked the same. Miserable. His head down, his eyes dull, his neck trembling. He dropped weight. He began to seem like a shadow of his old self.
But one thing about Honeycutt never changed. Through all the treatment, all the yucky pastes, pills, and rectal thermometers, he was a perfect gentleman. He was kind, considerate, and gentle, even when he felt awful. Feeding him twice daily medications through an oral syringe was easy, because he never tried to refuse it. He was such a good boy.
And after trying absolutely everything we could think of to help him get better, we had to face the truth. Honeycutt was miserable, and he was not getting better. And even though it was a terribly difficult decision filled with self-doubt and second guessing, we couldn't ask him to continue on the way he was feeling. So on Monday, we said goodbye. Honeycutt did his very best to reassure us that he was ready. He passed gently and peacefully.
There will never be another horse like Honeycutt. I personally knew this horse for fourteen years and it's hard to imagine a world without him in it. But I know in my heart that we did absolutely everything we could do to try to save him. And I know in my heart that we had to let him go.
I want to thank the vets at Rainland Farm Equine Clinic for working so hard to help this horse. I especially want to thank Dr. Eric Renner, who went above and beyond to try to make Honeycutt feel better. Dr. Renner came out to SAFE to check on Honeycutt numerous times, including evenings and weekends, and seemed sincerely invested in figuring out what was wrong and how we could treat it. He was amazingly kind and supportive, both to Honeycutt and to us, and we are so grateful for everything he did.
To the volunteers at SAFE who hoped and prayed that his condition would improve, I hope you know how much your love and caring meant to Honeycutt. He wasn't able to say it, but I'm certain that he knew that he was surrounded by your positive energy and concern. I am so grateful that he was with us at the end of his life.
And finally, I want to thank Sinatra. Sinatra was by Honeycutt's side day and night, and in his own special way, he provided his friend with love and support until the very end. Sinatra never wanted to let Honeycutt out of his sight. But when it was time for Honeycutt to go, Sinatra handled it with grace and dignity. He is sharing a paddock with Valor now, and the two are fast friends. At the end of the day, I think Sinatra loves everyone, but if ever he needs a friend, his old pal HC will always be with him.
I'm working on a tribute to Honeycutt that I'll share in a couple days. After so many years together, I have over a thousand photos and video clips of the handsome redhead, so his legacy will be preserved. Honeycutt loved SAFE and worked hard to bring awareness to the plight of pointy horses. The art he leaves behind, his musings on life, his poetry, and his paintings ensure that he will live on. And he will never, EVER be forgotten.

Honeycutt's Friends:
1. _____________________
2. _____________________
3. _____________________
4. _____________________
5. _____________________
6. _____________________
7. _____________________
8. _____________________
9. _____________________
10._____________________
Every horse deserves at least ten friends! Even a small monthly donation can make a difference. Plus, SAFE horse sponsors receive discounts at local businesses through the SAFEkeepers program!